COMenius in COMics: A drawn life of the "Teacher of nations"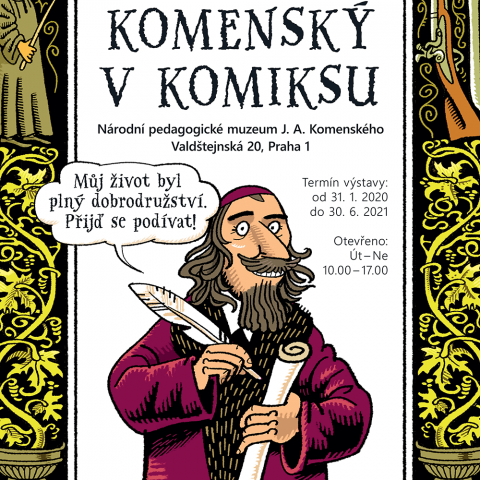 A unique exhibition which for the first time ever introduces the life story and work of Jan Amos Comenius (1592-1670) in a comics form. The exhibition came into existence in cooperation with UNESCO, and it is a part of National celebrations organized to pay tribute to Comenius. They are held from 2020 to 2022 to commemorate the 350th death anniversary (2020) of the Teacher of nations and the 430th anniversary of his birth (2022).
On the first sight it could appear that the a comics depicting of the life and work of Comenius is meant primarily for children and young people, but it is intended for people of all ages. The story of Comenius was written by writer Klára Smolíková, in cooperation with renowned Comenius scholars, Richard F. Vlasák and PhDr. Markéta Pánková. The pictures were drawn by illustrator Lukáš Fibich. The exhibition is accompanied by interactive elements made by Andrea Koblasová. Worksheets are prepared for school classes and child visitors.
In an innovative way the exhibition popularizes historical events related to Comenius and it is also devoted to Comenius' legacy to the present-day young generation. The author of the exhibition also presents Comenius' descendants, the Golden Amos competition and other events which Comenius could not have even dreamt of.
Place: Museum's ground floor
Started: January 31st, 2020
Ends:June 30th, 2021