A New Republic is Here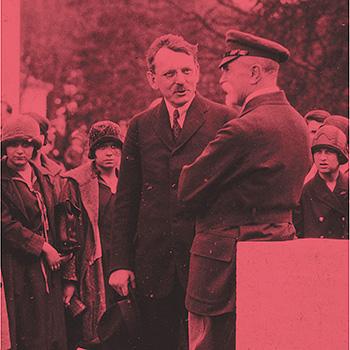 February 1, 2018 – December 31, 2018
Valdštejnská 18, Praha 1, ground floor.
This year The National Pedagogical Museum and Library of J. A. Comenius commemorates the 100th aniversary of the commencement of Czechoslovakia by two exhibitions:  an "introductory" exhibition  A New Republic  is Here about the interwar republic and the "main" exhibition  New School  in the New Republic about children both at school and during their everyday life in Czechoslovakia between two world wars.
The exhibition A New Republic is Here describes mainly in visual way the life of Czechoslovakia (and in it) since its "birth" in 1918 until its "death" in 1938. It is composed of 10 panels whose content is as follows:
1 - Way leading to establishment of Czechoslovakia
2 - Commencement of Czechoslovakia - the declaration of the republic
3 - Consolidation of the borders of the young republic
4 - Czechoslovak population and industry
5 - Everyday life in Czechoslovakia
6 - Culture in Czechoslovakia
7 - Czechoslovak  government system
8 - Great Depression in the 1930s
9 - Totalitarian systems in Europe between world wars
10 - Termination of the first Czechoslovak republic
The exhibition is in Czech version only.